Walls, or what is on them, matter in classrooms because they are used to create a welcoming atmosphere. They are also used to display children's work and educational materials to aid pupils in learning. In addition to the colour and attractiveness of wall displays, areas of the classroom can be made very cosy using wallpaper or photo wallpaper. Sites such as a reading corner need to be inviting, and carefully chosen wallpaper can do just that. It will make that corner a place where children will love to go to enjoy reading or sharing a book.
Wallpaper and Photo Wallpaper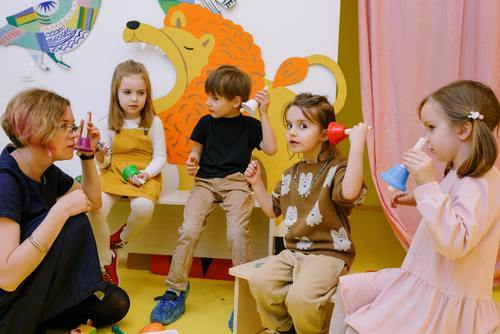 A vast array of patterns, colours and styles can be found at https://www.familywallpapers.co.uk/ to suit every type of room and function. https://www.familywallpapers.co.uk/ stock top quality wallpapers from famous brands at affordable prices with free shipping. Wallpaper samples are available for you to see how a particular wallpaper would look in your chosen space. Murals and feature walls can be created from customised photo wallpapers with a choice of 21 million photos, including ones that would appeal to children. https://www.familywallpapers.co.uk/ will custom-make your chosen photo wallpaper to fit the dimensions of your wall with no picture distortion.
Types of Display Boards in Schools
There are four different types of display boards used in schools.
Child Orientated Display Board
Preschool all the way up to high school use some boards to display the pupils' work, whether written or artwork. Not only does it make walls look attractive, but it is also an excellent motivator for pupils as it encourages them to do their best work knowing that it is going to be displayed. Pupils also gain confidence and develop a sense of belonging.
Decorative and Conceptual Display Boards
Decorative display boards are mainly there for aesthetic reasons even though they usually incorporate a theme such as seasons, holidays etc. Conceptual display boards support the work currently being learnt by pupils. These boards are great for visual learners as they can see a visual representation of a concept, and this can help them to understand it better. Teachers can also use these boards as teaching aids to help in their teaching.
Interactive Display Boards
As the name suggests, pupils can get some hands-on experience to help their learning. Problem-solving activities such as sorting words into spelling groups or completing a Venn Diagram with small number cards can help pupils learn, practise and hone their skills in a fun way. The list is endless and will depend on the age of the pupils.
Nothing entirely changes the look and feel of a place like some carefully chosen wallpaper. Display boards in schools also make classrooms attractive while serving essential educational functions as well.